Management Report
Belimo Semiannual Report 2023
Belimo Posts Continued Growth
Dear Shareholders,
In the first half of 2023, Belimo posted continued net sales growth of 12.4% in local currencies versus the first half of 2022. In Swiss francs, net sales increased by 7.7% to CHF 448.4 million.
The Company's history of organic growth is continuing. In most of its major countries, Belimo achieved high single- to double-digit net sales growth in the reporting period. The Group performed particularly strongly in the Americas, where it was able to sustain the market share gained last year and strengthen its position by convincing newly acquired customers of the advantages that Belimo offers – not only in terms of superior product availability, but also in terms of customer service excellence. In addition, sales generated in India, currently one of the world's strongest heating, ventilation, and air conditioning (HVAC) markets, grew exceptionally well.
Net Sales by Market Regions
 

 

1 st half 2023

 

1 st half 2022

in CHF 1'000

 

Net sales

 

% 1)

 

Growth in CHF

 

Growth in local currencies

 

Net sales

 

% 1)

 

Growth in CHF

 

Growth in local currencies

 

 

 

 

 

 

 

 

 

 

 

 

 

 

 

 

 

EMEA

 

201'855

 

45%

 

4.1%

 

9.3%

 

193'940

 

47%

 

-0.7%

 

4.3%

Americas

 

193'397

 

43%

 

11.6%

 

14.9%

 

173'238

 

42%

 

20.9%

 

17.1%

Asia Pacific

 

53'111

 

12%

 

7.9%

 

16.1%

 

49'243

 

12%

 

7.0%

 

4.4%

Total

 

448'363

 

100%

 

7.7%

 

12.4%

 

416'421

 

100%

 

8.2%

 

9.1%
1) in % of total net sales
Regarding the Company's business lines, control valves continued to record double-digit growth rates, particularly in the Americas, suggesting further market share gains. At the same time, sensors and meters gained further traction, while Belimo also grew in damper actuators despite its already high market penetration.
Net Sales by Business Lines
 

 

1 st half 2023

 

1 st half 2022

in CHF 1'000

 

Net sales

 

% 1)

 

Growth in CHF

 

Growth in local currencies

 

Net sales

 

% 1)

 

Growth in CHF

 

Growth in local currencies

 

 

 

 

 

 

 

 

 

 

 

 

 

 

 

 

 

Damper Actuators

 

212'809

 

47%

 

-0.9%

 

3.8%

 

214'749

 

52%

 

4.4%

 

5.7%

Control Valves

 

217'289

 

48%

 

15.7%

 

20.5%

 

187'733

 

45%

 

10.9%

 

11.1%

Sensors and Meters

 

18'266

 

4%

 

31.0%

 

38.1%

 

13'939

 

3%

 

42.1%

 

43.3%

Total

 

448'363

 

100%

 

7.7%

 

12.4%

 

416'421

 

100%

 

8.2%

 

9.1%
1) in % of total net sales
Material costs, which were on the rise in 2022 owing to supply disruptions, higher energy costs, and inflation, started to normalize in recent months. However, there is still a spillover effect into 2023 due to the Company's long supply chain and gradual passing on of inflation by suppliers. Consequently, the Group implemented price adjustments in the first half of the year.
Financials
In terms of profitability, earnings before interest and taxes (EBIT) rose to CHF 84.7 million in the first half of 2023 (first half 2022: CHF 76.7 million), and the EBIT margin improved to 18.9% (first half 2022: 18.4%). Belimo achieved a net income of CHF 65.0 million (first half 2022: CHF 61.3 million) and earnings per share of CHF 5.29 (first half 2022: CHF 4.99).
The Group generated a free cash flow of CHF 79.6 million (first half 2022: CHF 81.7 million), which includes a divestment of term deposits of CHF 25.0 million (first half 2022: CHF 60.0 million). Net liquidity at the end of June 2023 came to CHF 48.0 million, and the equity ratio was 73.8%. Supply chain management was kept stable, and the supply situation for critical components eased, particularly for electronics. Belimo is now actively reducing stock according to the risk profile of each item and is seeing the market become more efficient again, with fewer goods in transit. Based on this, Belimo expects the respective inventories to return to pre-COVID-19 levels toward year-end 2024. However, net working capital increased due to higher trade receivables balances.
EMEA
The EMEA market region registered net sales of CHF 201.9 million in the first half of 2023. This corresponds to an increase of 9.3% in local currencies (4.1% in Swiss francs). In the first quarter of 2022, the war in Ukraine prompted Belimo to exit the Russian market, which continued to show directly and indirectly in the Group's sales performance. Despite signs of recession in the EMEA market region, Belimo has not seen any weakness in the non-residential building market, with its largest markets ‒ Germany, Italy, France, and Switzerland ‒ recording single- to double-digit growth in the reporting period.
In Germany, the export-oriented original equipment manufacturer (OEM) business performed significantly better than the domestic contracting business. The trend toward electrification is leading to an increase in the number of fossil-fueled boilers being replaced with heat pumps. These upgrades also require new and more sustainable control valves, sensors, and meters in the central plant. Furthermore, the building's hydronic system is often upgraded to ensure that the energy consumption is controlled as efficiently as possible.
From a vertical market perspective, data centers again stood out as a particularly successful segment across the EMEA market region.
Americas
In the Americas market region, Belimo registered net sales of CHF 193.4 million in the first half of 2023, corresponding to 14.9% growth in local currencies (11.6% in Swiss francs). As in the previous year, the region is still affected by the high inflation rate, but the HVAC market remains resilient despite less robust general economic growth.
After gaining market shares in 2022 owing to superior lead times for its products, Belimo was able to secure most of its new customers in the first half of 2023 by demonstrating its strong supply chain, smooth logistics, and extensive HVAC application know-how. Demand in the data center market remained strong, driving sales in both the contracting and OEM channels.
Other sectors of growth are numerous large-scale projects in the semiconductor and electric vehicle industry, with new factories currently being built in the wake of reshoring in response to previous supply disruptions and geopolitical tensions.
Asia Pacific
The Asia Pacific market region reported CHF 53.1 million in sales in the first half of 2023, corresponding to an increase of 16.1% in local currencies (7.9% in Swiss francs).
In China, the Company's performance has not reached pre-COVID-19 levels yet. The main underlying reasons for this are concerns regarding growth prospects and increased uncertainty around geopolitical developments. As a result, foreign direct investments in construction are increasingly being diverted to other Asian countries.
Meanwhile in India, the HVAC business is flourishing. Belimo was able to exploit this development and succeeded in increasing its Indian market presence. This, as well as healthy growth in other countries in the Asia Pacific market region, helped compensate for some of the slow growth in China. Data centers, hospitals, pharma buildings, and technology parks are proving to be India's most attractive vertical markets for Belimo, but infrastructure such as airports or subway network expansions are also contributing favorably. In addition, increasing energy efficiency requirements are driving growth, with more and more buildings being constructed according to either domestic or international green building standards. The industrial sector is also seeing a lot of additional demand as multinationals build up their operations to benefit from India's growth.
Growth Strategy and Innovation
The Group's long-term growth strategy consists of the following six initiatives geared toward increasing customer value and advancing solution leadership.
Strategy Update
In the period under review, Belimo continued to expand its sales organization with Regional Application Specialists and Business Development Managers, who support our customers from the initial RetroFIT+ project assessment all the way through to successful completion. Meanwhile, under the Grow Asia Pacific initiative, the Company continued to expand its market presence in China and particularly in India by increasing its sales and marketing resources. To further drive the Digital Customer Experience initiative, BIM (Building Information Modeling) specialists were appointed in all significant subsidiaries. Regarding the fundamental renewal of the core platforms for Damper Actuators and Control Valves, the Company reached another milestone in the product development process and is on track to launch the platforms in the coming years. Within its Sensors and Meters initiative, Belimo released BACnet and Modbus-compatible room sensors and room operating units. Lastly, the Digital Ecosystem also continued to grow with new collaborators joining.
Strategy Deep Dive: Customer Value
RetroFIT+
Only 2% of the world's buildings are newly constructed each year. This means that concentrating on existing buildings represents the most significant opportunity for reducing greenhouse gas emissions. The renovation rate must, however, be doubled if the ambitious climate targets stipulated by such initiatives as the European Green Deal are to be achieved. Upgrading existing buildings also requires highly experienced engineers and technicians, which limits overall output capacity. Consequently, this initiative intends to support customers in eliminating bottlenecks and streamlining processes.
Grow Asia Pacific
The aim of this initiative is to safeguard the Group's market leadership in the most rapidly expanding market. Most decisive for the success of Belimo in Asia is its focus on China and India, the world's two most populous nations. In China, a city cluster hub strategy was implemented in 2017 and has since led to significant gains in market share.
In India, the main pillars of the strategy are a focus on specific vertical markets such as data centers, pharma buildings, and hospitals by building up the sales network for advising consulting engineers and end users plus the expansion of local presence through the establishment of hub offices, especially in high-growth regions.
Digital Customer Experience
The Digital Customer Experience initiative is directed at enlisting a digitally adept generation of technicians and engineers as digital tools and interactions gain ground in the HVAC industry.
Strategy Deep Dive: Solution Leadership
Damper Actuators and Control Valves
The largest sales contribution in the growth plan for the period leading up to 2030 is expected to come from damper actuators and control valves. This expectation is underscored by a dedicated initiative for growing the business and expanding market leadership by leveraging the economies of scale that result from having the biggest share of the market. Over the next few years, Belimo will be making extraordinary investments in the fundamental renewal of its core platforms for both damper actuators and control valves, while at the same time fully integrating its sensors and meters product range. This will allow a seamless design, installation, and commissioning experience across the product range offering, as the field devices will become more integrated and require consistent interfaces in the evolving building automation architecture.
Sensors and Meters
As part of its dedicated sensors and meters initiative, Belimo is expanding its range of these products.
Digital Ecosystem
In the coming years, most building automation and control systems (BACS) will evolve into cloud-based and building IoT (BIoT) systems. In light of these trends and the increasing interest of building operators in energy data and predictive maintenance, the digital connectivity of Belimo devices will be of increasing importance. A well-designed digital ecosystem will allow seamless integration, providing easy access to data from damper actuators, control valves, sensors, and meters. With Belimo already recognized as the leader in this domain, leveraging platform capabilities, edge logic, and allowing seamless access to device data will become a strong point of differentiation and a source of additional growth.
Outlook
Belimo is confident that the development of all three of its market regions will continue into the second half of 2023. The Company expects the demand for both new buildings and the refurbishment of existing buildings to remain robust.
For the full year, Belimo is continuing to base its planning on a sales revenue growth rate in local currencies around its five-year average. This outlook includes the Group's expectation that sales revenue growth will slow down slightly in the second half of 2023 compared to the second half of last year. The second half of 2022 was markedly stronger than the first six months despite the shorter business period due to the shorter construction activity in December. Last year, Belimo was able to capitalize on the supply chain situation and implement additional price increases in the second half-year. Slower revenue growth in the second half-year of 2023 is likely to have a corresponding impact on the EBIT margin, as generally observed in the Company's growth trend in recent years.
In the EMEA market region, the Company foresees a corresponding normalization in sales in the second half of 2023 across all countries on a year-on-year basis in local currencies. However, in the coming years, the revised Energy Performance of Buildings Directive (EPBD) will be a noteworthy regulatory driver in the market region, with the mandatory installation of BACS in non-residential buildings with a heating or cooling load of more than 290 kW and the subsequent threshold reduction to 70 kW by 2030. Together with the general drive for greater energy efficiency, this will increase the backlog of retrofit projects going forward.
In the Americas market region, Belimo is likely to experience a similar sales development in the second half of 2023 to EMEA. With the supply chain slowly going back to normal, the associated market share gains seen in the previous year will be lacking as an additional growth driver in 2023. From a long-term perspective, growth in the HVAC market will be supported by the US Inflation Reduction Act (IRA) because of its funding and the way it incentivizes a more sustainable approach to construction.
In the Asia Pacific market region, the Group expects sales to accelerate slightly toward the end of the year – comparing the second half-year of 2023 to the same period in 2022 on a local currency basis. Sales in China are expected to increase somewhat, as the underlying demand for infrastructure buildings, data centers, and healthcare facilities is anticipated to pick up. Sales in India point to further acceleration in 2023. The outlook for the other countries in the market region is also largely positive.
Persisting uncertainty about the direction of the global economy, signs of recession, and higher interest rates might have a negative impact on investment decisions in the non-residential building market. However, if new construction business weakens as a result of higher interest rates, refurbishment is likely to gain momentum with a time lag, opening up further growth potential for Belimo.
Belimo is thus strongly positioned as the market leader in energy-efficient HVAC field devices, with growth prospects remaining attractive. The urbanization and climate change megatrends underlying the building automation industry are driving demand for indoor air quality and energy efficiency, supporting above-GDP growth potential. The Group will therefore pursue its long-term growth strategy unwaveringly and invest in its strategic initiatives and capacity expansion.
On behalf of the Board of Directors and the Executive Committee of Belimo, we would like to thank all our esteemed stakeholders for the ongoing trust you place in us and your contribution to the success of Belimo.
BELIMO Holding AG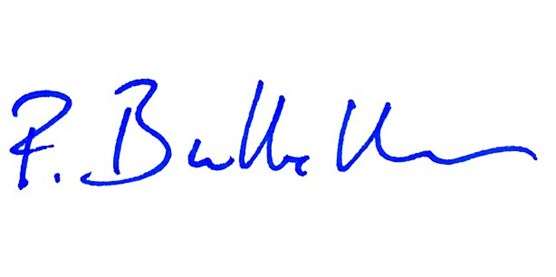 Patrick Burkhalter
Chairman of the Board of Directors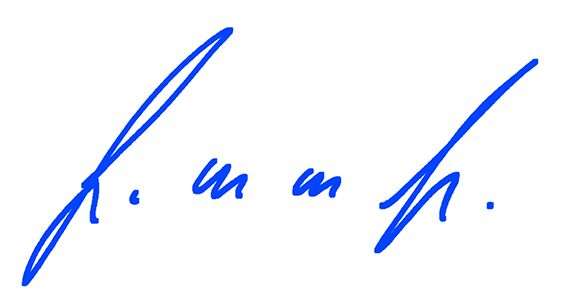 Lars van der Haegen
CEO