Solution Leadership
Digitally Enabled Solutions
We help our customers to digitize their business processes and maximize the value of their installations by providing the digital ecosystem.
Most building management systems are now using networks instead of signal voltage to increase peripheral intelligence and deliver more data. This allows information from Belimo devices to be supplied easily to on-premises building management and cloud-based Internet of Things systems. This evolution is in response to regulatory pressures and the desire of building owners and operators to lower their operating costs and increase indoor comfort, allowing them to attract better tenants and achieve higher rental yields.
Data is at the forefront of this change. It is being used locally to streamline building operations to suit demand and diagnose faults quickly or before they occur, and remotely by cloud-based systems for building benchmarking and optimization.
Digital communication allows our customers to leverage this technology to deliver energy efficient buildings that are more reliable than ever. Data-rich devices enable building networks to become increasingly intelligent and transparent, allowing our customers to implement effective optimization and energy-saving strategies that affect all their business processes, including planning, installation, commissioning, operation, monitoring, optimization, and maintenance.
At the same time, data helps Belimo to understand changes in the usage of the specific building and application trends, ensuring its field devices remain relevant and continue to provide value for its customers and theirs. In addition, continuing to support common network platforms, and providing edge logic and valuable data are strong points of differentiation and a source of additional growth.
Fostering the Belimo Digital Ecosystem
Growth of the Belimo Digital Ecosystem
A key activity in the reporting period has been the consistent expansion and consolidation of the Belimo Digital Ecosystem, to ensure that more and more devices in the Company's portfolio are able to communicate with and locate within building management systems on a global basis. For this purpose, it is important that Belimo field devices can communicate with the customers' company servers. These technologies are complex to implement but they could represent a step change in the interaction between field devices and building management systems, offering new functionalities in the efficient operation of buildings.
The growth of the Belimo Digital Ecosystem and its applications during the reporting period is reflected by the ever-increasing number of collaborators (currently 23, see graph).
How Is Digitally Enabled Solutions Managed?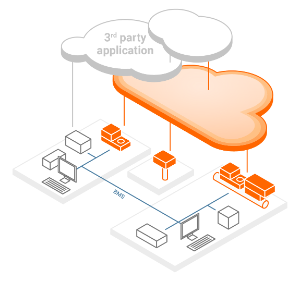 The digital ecosystem enables the means to offer flexible and seamlessly available system integration and high-quality device data.
Belimo continues to increase the number of network and cloud-capable devices that it offers and the number of devices that generate their own digital twins. Customers who own a Belimo Internet of Things device also own its digital twin and the data it collects. They can interact with it through the Belimo Cloud or an application program interface – which can be made of use by third-party applications – and aggregate the data collected by Belimo devices for a holistic building overview.
Belimo subject matter experts are focused on this topic, ensuring the Company remains the global leader in HVAC systems. Crucial is not only to offer the best products in traditional uses, but also to become a digital enabler of HVAC applications. For this purpose, Belimo supports all popular technologies and protocols, and keeps pace with market trends.
How Is Digitally Enabled Solutions Measured?
We track the following key performance indicators to help measure the success of our management performance with respect to digitally enabled solutions:
The number of Belimo digital ecosystem collaborators.

The percentage of digitally connected field devices.

The increase in sales of connected devices.